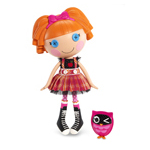 Bea Spells-a-Lot is one of the original Lalaloopsy.
Appearance
Edit
Bea has blue eyes, an orange hair with a pink bow, blushed pink cheeks, a dark red dress, and a pair of black sneaker boots.
Personality
Edit
She is sewn from a school girl's uniform
She's a real smartypants, who always follows the rules and talk A LOT!!
She has a pet owl
She came to life at October 16th (Dictionary Day)
Bea Spells-a-Lot full size doll
Bea Spells-a-Lot Silly Hair
Bea Spells-a-Lot mini Lalaloopsy
Related pages:
Edit
Ad blocker interference detected!
Wikia is a free-to-use site that makes money from advertising. We have a modified experience for viewers using ad blockers

Wikia is not accessible if you've made further modifications. Remove the custom ad blocker rule(s) and the page will load as expected.