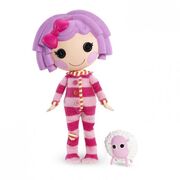 Pillow Featherbed is one of the 8 original Lalaloopsy dolls.
Appearance
Edit
Pillow has a pale light grayish purple hair with a fuchsia bow, and a moderate fuchsia-and-light pink sleepsuit.
Personality
Edit
She has a pet sheep
She is sewn from pieces of a baby's clothes.
She loves good stories, long naps, and her favorite snacks are milk and cookies.
She come to life at January 3rd (Festival of Sleep Day).
Pillow Featherbed full size doll
Pillow Featherbed mini Lalaloopsy
Pillow Featherbed soft doll
Pillow's Story Time (mini Lalaloopsy)
Pillow's Sleepover (mini Lalaloopsy)
Ad blocker interference detected!
Wikia is a free-to-use site that makes money from advertising. We have a modified experience for viewers using ad blockers

Wikia is not accessible if you've made further modifications. Remove the custom ad blocker rule(s) and the page will load as expected.