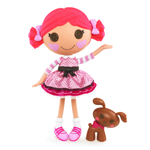 Toffee Cocoa Cuddles is a coming soon Lalaloopsy.
Appearance
Edit
Toffee Cocoa Cuddles has a tied brilliant rose hair with light pink bows, a long-sleeved pink dress with a black sash, a fuchsia and a black layer below her dress, and a pair of white socks beneath her pink shoes.
Personality
Edit
She is sewn from a chocolate box
She is a sweetheart who loves giving hugs, loves candy, ruffles, sending nice notes, but getting them makes her blush.
She came to life at June 11th (National Hug Day)
Toffee Cocoa Cuddles full size doll
Related pages:
Edit
Ad blocker interference detected!
Wikia is a free-to-use site that makes money from advertising. We have a modified experience for viewers using ad blockers

Wikia is not accessible if you've made further modifications. Remove the custom ad blocker rule(s) and the page will load as expected.